The reception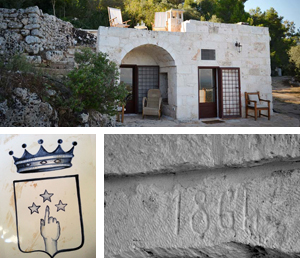 The ideal place where to relax in a welcoming and comfortable atmosphere, so that you can rediscover nature's sounds and colours, and not only.

La Lamia used to be a shepherds' shelter and has been rebuilt with care and passion, using natural materials from the surrounding areas and is now a great welcoming home.

Its story began in 1864 and has stayed with us ever since.

La Lamia, perched on a hill, looks out to historical olive groves, to the blue Adriatic sea and onto the "white city", characterised by the unique jewel that is 'Borgo Antico' called 'the earth', with an incredible viewpoint.

La Lamia is immersed in beautiful Mediterranean vegetation such as broom, lentisco, arbutus, pine trees and aromatic plants.

It's an ideal location for a romatic weekend getaway, a relaxing stay or a quiet holiday.